FREE UP VALUABLE SPACE
BULK DOCUMENT SCANNING SERVICES
Start your digital transformation by securely storing electronic documents in bulk
WE HANDLE BIG JOBS
SIMPLE BULK DOCUMENT SCANNING SERVICES
We make it easy to start and finish a bulk document scanning project to upgrade your storage and rid your organization of a mountain of paperwork. Digitizing documents is easy with the experience and insights of the experts at IMS Technology Group. We'll help you set up bulk scanning services while making a long-term plan for your document scanning digitization, supporting you throughout the process to ensure your success. Securely store documents, improve collaboration, build efficiency, and boost productivity at your organization while you free up valuable space. This is the secret to creating a digital transformation that allows your entire company to go paper-free.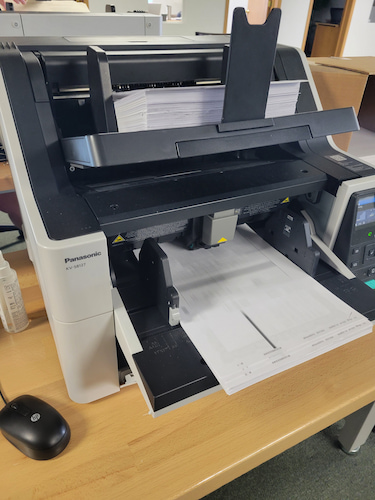 BENEFITS OF BULK SOLUTIONS
When you have large volumes of paperwork to manage, things can easily get out of control and allow documents to build up. This is a security risk, not to mention a hassle. We provide an all-in-one bulk document management system that sets a new standard for handling data at your organization. Instead of battling daily challenges with paper documents, use document scanning digitization to bulk store your information.
Reclaim crowded office space

Stop renting off-site storage areas

Merge paper and electronic processes

Easily share digital documents

Protect your valuable data




Search and find documents faster

Go paperless and go green
Bulk document storage doesn't have to be a big headache. Imagine eliminating the storage boxes and cabinets littering your office with extra clutter. In your new digitized storage system, electronic documents are scanned efficiently and stored safely with cloud-based access for your employees. Digital storage makes it faster and easier to do daily business, improving staff morale and impressing your customers with better service.
FAST AND SIMPLE
BULK SCANNING AND STORAGE